This townhouse from 1924, close to the centre, was rehabilitated in 2019 with great attention to detail and using the best building materials. The living area is spread ove... read more
city: Campos plot: 230 sqm bedrooms: 4 property number: ATM02088 price: 890.000,00 €
A spectacular turnkey project for a country house built in a hill top plot offering amazing views and a lot of privacy. Constructed using only materials of the highest quality, the property has a ground floor with a spacious living area comprising ...
Sineu
plot: 16.500 sqm
constr. surface: 278 sqm
AMR1403
price: 2.750.000,00 €
bedrooms: 3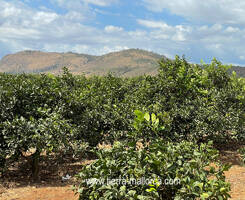 This large rustic finca with a total of 17 hectares is located in the municipalities of Búger, Inca and Sa Pobla and consists of several lots. On six of them can be built a detached house. The finca is destined to the cultivation of citrus fruits, or...
Sa Pobla
plot: 170.000 sqm
constr. surface: 700 sqm
ATM06363
price: 3.200.000,00 €
This large manor house over four floors from 1950 is situated in an elevated position in the charming village of Montuïri and therefore offers a unique view from the upper floors over the village and the surrounding landscape up to the Sierra de Tram...
Montuïri
constr. surface: 520 sqm
ATM02087
price: 1.975.000,00 €
bedrooms: 6
An exceptional house due to its superb location, sea views, private access to the beach and a fascinating history. The house maintains the charm and style belonging to the original Majorcan seaside villas whilst having recently been refurbished to ...
Portocolom
plot: 810 sqm
constr. surface: 374 sqm
AMR1326
price: 3.200.000,00 €
bedrooms: 6
We can help you find the right property in Majorca
We can guide and provide you with our professional service throughout the acquisition of your Majorcan property. We are sure our portfolio will contain a property that will meet your requirements.
Whether you are looking for a comfortable and inexpensive apartment, a penthouse, a duplex with communal areas, a pool etc., a tasteful detached villa, a cosy chalet, or a prestigious and exclusive property with a view of the sea, a rustic country house with a Mediterranean atmosphere as a holiday home or as an investment… We can help you!
Although our business is focused mainly on the south/ south-east of Mallorca, we are happy to help you find your dream property anywhere on the island. Just tell us what your requirements are and then we will gladly start our research. The south/ south-east offers a lot of advantages and a good infrastructure, for example Llucmajor is only a 15 minutes' drive away from Palma. Llucmajor also offers all kinds of amenities such as restaurants, supermarkets, medical centres, schools and three 18-hole-golf courses.
Property acquisitions is a matter of trust – We are your real estate experts in Mallorca.
The coastal towns of Arenal, Sa Rapita and S´Estanyol are within easy reach and offer marinas with excellent water sport facilities. The residential areas of Sa Torre, Maioris Décima, Bahia Grande, Bahia Azul up to and including Cala Pi offer a good location next to the sea and close to the beautiful capital City of Palma de Mallorca. A bit further inland and in the south there are still unspoilt places like Algaida, Porreres, Montuiri, Santanyi and Campos with rural landscapes and farmland aspects.
On the south-end of the beautiful sandy beach is a wonderful fishermens village called Colonia Sant Jordi, with a picturesque small harbour and excellent restaurants. Live your life where others can only spend their holidays!
Our investment properties of hotels, finca-hotels, restaurants and hostels can offer the possibility for a potentially bright business future under the Mediterranean sunshine.
We are also the right partner for you if you are looking to
 buy a plot of land to build the house of your dreams
 rent a property whether it is short or long-term
 sell or rent your property
Take the time to explore our website and you will discover that our friendly and professional services together with our many years of experience make us the right partner for you when searching for a home from home.