Your Estate Agent for properties in Bahia Azul
Property offers in Bahia Azul
New
This is a super nice bungalow for a really small price. There are two living units on the 650 m² plot. The main house is in need of a modest renovation, while the separate flat has been renovated to a high standard. In total, the bungalow has four be...
Bahía Azul
plot: 650 sqm
AWA200725
price: 450.000,00 €
bedrooms: 4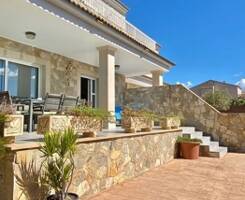 New
A dream in natural stones in the urbanisation Bahia Azul and is located at the eastern end of the bay of Palma in a quiet side street. It is a quiet residential area consisting mainly of villas. It is situated on a rocky coast, has a good infrastruct...
Bahía Azul
plot: 350 sqm
AWA200737
price: 595.000,00 €
bedrooms: 3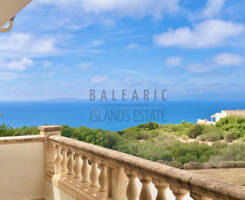 In a quiet location and only 15 minutes away from the island's capital, Palma, is this chic semi-detached house with spectacular sea views on a 380 sqm plot. A total of 3 bedrooms and 2 bathrooms (one en suite) and a guest toilet are spread over...
Bahía Azul
plot: 380 sqm
constr. surface: 240 sqm
ABI23051
price: 975.000,00 €
bedrooms: 4
Reserved
This spectacular newly built villa is built on a 850 sqm plot in second line and offers on 250 sqm of living space a total of 4 bedrooms and 3 bathrooms (two en suite) and a guest toilet. The spacious living/dining area in south-west orientation in ...
Bahía Azul
plot: 850 sqm
constr. surface: 350 sqm
AGW04295
price: 1.950.000,00 €
bedrooms: 4
Information and situation to Bahia Azul
Bahía Azul has his name from Spanish "the blue bay" and it is a small residential area in the old steep coastal street between Playa de Palma and Cap Blanc and it belongs to the municipality of Llucmajor. Here live approximately 1750 inhabitants, partly native, partly of foreign derivation. Bahia Azul is a perfect place for relax and rest and it offers a dreamlike view over the bay of the capital city Palma and view to the open sea. Also the golfers can follow their passion nearby. Very close there is a golf course "Golf Maioris", a 60 hectares field with 18 holes.
Close to Llucmajor there is also another golf course with 18 holes – the golf course Son Antem by Marriott Hotel. The big advantage of the residential zones on the south coast of Majorca is the fact that they are close to the island metropolis Palma. It takes only 10 minutes to reach the capital, but also it takes 10 minutes to go to the locality Llucmajor and the sandy beach Es Trenc is located only 20 minutes away. In the "blue bay" you can relax and if required you reach the bigger towns and their surroundings rapidly. It is gorgeous to live but also perfect for holidays!
Population: approx. 1 800
Distance to airport: 20 km
Excursions: Es Trenc, Palma, Playa de Palma