Your Estate Agent for properties in Cas Concos
Property offers in Cas Concos
This new 540 m2 house will be completed in 2023 on a plot of 21,234 m2 on the edge of the village of Cas Concos, a picturesque village that offers plenty of tranquility. The façade of the beautiful finca will be clad with hand-carved natural stones, ...
Cas Concos des Cavaller
plot: 21.234 sqm
constr. surface: 540 sqm
ATM03398
price: 2.600.000,00 €
bedrooms: 4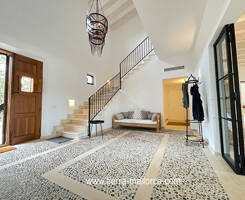 Exclusive
In a beautiful area of the south-east of Mallorca, this dreamlike Mallorcafinca was built in 2017 in Mediterranean style for the sophisticated taste. The popular town of Santanyí and the most beautiful bathing bays of the southeast are only a few min...
Cas Concos
plot: 16.300 sqm
constr. surface: 800 sqm
ATM03801
price: 3.450.000,00 €
bedrooms: 4
Information and situation to Cas Concos
The small, pictorial village Cas Concos that belongs to municipality Felanitx is located in the east of the island, close to many beautiful bays and beaches like Santanyi or Llombards. Within a few minutes you can reach the sea site from here. In this charming village there are various shops, cafes, bars and good restaurants. The name Cas Concos comes from the property of family Obrador – Conco – in the sixteenth century.
In S´Alqueria Blanca and in Cas Concos a weekly market takes place. Here you can buy fresh fruits, vegetables and other food you need in daily life. The next nearest localities are Felanitx or Manacor. Here you can find everything you might need. Cas Concos is a dreamy, small place with original charm – adorable but not bleary. But also if it seems to be like that sometimes – in the evening it is very busy and alive!
Population: approx. 436
Distance to airport: 37 km
Excursions: Felanitx, Santanyi, Manacor, Campos, Portocolom, Puig de Sant Salvador