Your Estate Agent for properties in Cala Pi
Property offers in Cala Pi
This house was built in the 80's on a plot of 320 m2 in Cala Pi. The property was renovated in 2010. The excellent location offers a lot of tranquility and proximity to the small beach, as in 10 minutes walking distance. The house is distribu...
Cala Pi
plot: 320 sqm
constr. surface: 98 sqm
ATM04445
price: 350.000,00 €
bedrooms: 3
Video with impressions to Cala Pi
In a still mostly untouched by tourism location this beautiful south faced new semi-detached house is being built on a 392 m2 plot and offer on a total of 127 m2 living space, 3 bedrooms and 3 bathrooms. The large and bright living/dining area wit...
Cala Pi
plot: 392 sqm
AGW04367
price: 679.000,00 €
bedrooms: 3
This modern, new semi-detached house is built on a 450 square meters of land in a still largely unspoiled by tourism and offer on 127 sqm living space a total of 3 bedrooms and 3 bathrooms (two en suite). A bright living/dining area with open, ful...
Cala Pi
plot: 450 sqm
constr. surface: 185 sqm
AGW04369
price: 699.000,00 €
bedrooms: 3
In a still mostly untouched by tourism location thise beautiful new semi-detached house is being built on a 328 m2 plot and offer on a total of 127 m2 living space, 3 bedrooms and 3 bathrooms. A large and bright living/dining area with open, fully...
Cala Pi
plot: 328 sqm
constr. surface: 180 sqm
AGW04366
price: 949.000,00 €
bedrooms: 3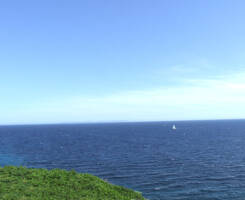 This fantastic building plot is one of the last 1st line plots that are currently offered. South facing, it offers impressive sea views and views of the Cabrera archipelago, the coastal town of Colonia Sant Jordi and the beach Es Trenc. It is mostl...
Cala Pi
plot: 1.490 sqm
ADI7093
price: 1.300.000,00 €
The exquisite Mallorcan villa in 2nd sea line, offers 5 bedrooms, 3 bathrooms, gas central heating, fireplace, a 46 m2 private nut pool, spacious terrace areas and balconies, carport and various parking spaces....
Cala Pi
plot: 693 sqm
constr. surface: 247 sqm
ABC0013
price: 1.300.000,00 €
bedrooms: 5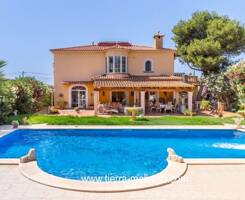 This special Versace-style villa is situated in a quiet location on a large plot and offers a beautiful sea view from the terraces on the upper floor. The house has among other things on the ground floor a large living room with gallery open to the t...
Cala Pi
plot: 1.650 sqm
constr. surface: 561 sqm
ADI4743
price: 2.650.000,00 €
bedrooms: 5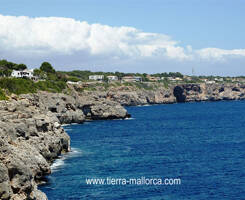 In the first line of the quiet urbanization Vallgornera Nou, which belongs to Cala Pi, you will find this unique building plot with approximately 5,700 sq.m. The fantastic sea view underlines the exclusive location in a residential area without mass ...
Cala Pi
plot: 5.600 sqm
ATM05117
price: 3.500.000,00 €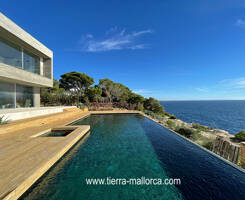 In the first sea line, on the southern coast of Majorca with breathtaking sea-far-sight this, in architecture, exceptional villa is built in outstanding quality on a 1420 square meter plot and can be handed over in the spring of 2022. On 582 square m...
Cala Pi
plot: 1.420 sqm
constr. surface: 930 sqm
AGW04391
price: 5.400.000,00 €
bedrooms: 6
Information and situation to Cala Pi
Cala Pi is situated by the bay of the same name, on the south coast of Majorca, about 17 kilometers south of Llucmajor. Very steep stairs lead to the romantic cala that is 150m wide and slopes gently to the sea. The place is located far away from the mass tourism and has got only few hotels. There are a few restaurants, bars and cafés. Alone standing on the many times photographed defense tower that is located on the steep slope and looking at the open sea – it can already cause a slight tingle that goes through your body.
In the locality itself there is one shop and some restaurants. If you wish to go shopping – you would have to go to the capital city Palma, but Palma is located nearby so it is not a problem. The highlight of Cala Pi is that you can admire day and night a dreamlike view to the open sea. The sea as far as the eye can see – fantastically beautiful!
Population: approx. 300
Distance to airport: 40 km
Excursions: Palma de Mallorca, Aqualand Arenal, Es Trenc
Kleine Dörfer, steinerne Bauten und unberührte Natur
Cala Pi ist – paradoxerweise – der wahrscheinlich frühest besiedelte, heute jedoch unberührteste Platz der gesamten Insel und damit etwas ganz Besonderes. Als felsige Wälle und Wehre stehen sie heute noch inmitten der üppigen Vegetation – umwachsen von Steineichen und verwilderten Johannisbrotbäumen. Wenngleich sie die Jahrhunderte geduldig überdauert haben, hinzugesellt hat sich zu ihnen wenig. Die felsenreiche Küste verhinderte eine starke Bebauung und so gibt es in der Gegend um Cala Pi nichts, was auf Zivilisation schließen lässt, außer einem kleinen Küstendorf und vereinzelten Anwesen.
Das Küstendorf Cala Pi ist – wie seine Umgebung – zurückhaltend und schlicht. Eine kleine Kirche dominiert das Ortsbild, eine Handvoll Restaurants und Läden findet man hier. Doch genau das schätzen die Menschen an Cala Pi am meisten: die Natürlichkeit der Landschaft, Ungestörtheit der Umgebung und Unmittelbarkeit des Augenblicks.
Wer die Nähe zum Wasser sucht und bei Meeresrauschen entspannen möchte, bezwingt die 147 Steinstufen, die das Umland vom Strand trennen. Dieser liegt eingebettet in zwei wettergeformte Felswände und spendet durch die natürliche Begrenzung ein besonderes Gefühl von Schutz. Der Strand bietet gemeinsam mit den rauen Felsvorsprüngen, der mediterranen Vegetation, dem hellen Sand und türkisen Wasser ein spektakuläres Bild, das nicht genug bestaunt werden kann. Dennoch kann man hier mehr, als nur zu entspannen. Denn für Wanderungen und Radausflüge eignet sich die Landschaft ebenso gut – Aktive und Sportbegeisterte kommen also auch auf ihre Kosten. Besonders sehenswert ist der Weg zum Wehrturm, der einst vor Piraten schützen sollte. Er thront auf der Spitze der Landzunge, hoch über der Bucht und dem Strand und gibt an klaren Tagen den Blick in unendliches Blau frei.
Wohnen mit Meerblick und Wellenrauschen
Wer sich gerne ab und an zurückzieht, sich der Natur nahe fühlen und die Freiheit spüren will, ist mit Cala Pi richtig beraten. Grundstücke und Immobilien sind manchmal sogar etwas günstiger zu erstehen als am Rest der Insel, sofern sie nicht durch eine abgeschiedene Lage punkten. Ob eine freistehende Villa mit herrlichem Panorama, ein Häuschen im Dorf oder ein abgelegenes Anwesen mit Finca – Objekte ganz verschiedener Art finden sich immer wieder am Markt. Doch auch für den Zweitwohnsitz oder das Feriendomizil eignet sich Cala Pi – wenn der Alltag hinter sich gelassen und Entspannung folgen soll. Wer sich für ein Eigenheim hier entscheidet, genießt eine ausgeglichene Mischung zwischen Ruhe und einem schönen Plätzchen Erde.
Wer sich einen Tapetenwechsel wünscht, hat eine breite Auswahl an Möglichkeiten: Der karibische Strand von Es Trenc liegt ebenso nahe wie das Archipel um die Insel Cabrera, wo man schnorcheln, segeln und wandern kann. Die Städtchen Sa Ràpita, Campos und Lluchmayor liegen unweit von Cala Pi und locken mit Bars, Märkten und Geschäftchen. Für Einkaufsrummel und Geschäftigkeit wird hier also gesorgt. Weinliebhaber finden in südöstlicher Richtung die zweigrößte Weinbaugegend der Insel vor. Auf den Weingütern können inmitten grüner Reben und ausladender Terrassen und Hügel hiesige Sorten und andere mallorquinische Spezialitäten verkostet werden.
Immobilienmakler in der Region Cala Pi
Wer die Hektik der Städte und den Trubel der Ferienorte hinter sich lassen, die ungezähmte Natur genießen und grenzenlose Freiheit spüren möchte, findet in Cala Pi, was er sucht. Hier dominieren landschaftliche Schönheit und ungetrübte Ruhe. Die Nähe zu allerlei lebhaften Orten und Plätzen sorgt jedoch für Abwechslung, wenn man sie sich wünscht. Ob abgelegene Villa oder minimalistische Wohnung, ob Feriendomizil oder dauerhaftes Heim – das Team von Tierra Mallorca bemüht sich gerne um Ihre Wünsche und Vorstellungen. Ortskundig und aus einem reichen Erfahrungsschatz schöpfend werden Sie von unseren Immobilienmaklern bei der Suche nach Ihrem Wohnobjekt und bei allen darauffolgenden Kaufangelegenheiten beraten und unterstützt. So lässt sich der Traum vom Eigenheim in Cala Pi einfach und Ihren Wünschen entsprechend realisieren.
Einwohnerzahl: ca. 300
Entfernung Flughafen: 40 km
Ausflugsziele: Palma de Mallorca, Aqualand Arenal, Es Trenc