Luxurious properties with the maximum comfort in exclusive locations of Mallorca
On this page we offer luxury villas and houses in Majorca. Villas built in the finca style or designer houses and chalets by the sea. The luxury properties in Majorca are also a profitable investment. We look for a suitable location for you on the island. In addition we have penthouses in Mallorca for sale in the best locations on the island.
With this offer you will find an interesting yield property. A two-storey, lovingly renovated detached house with holiday rental licence for 6 places in a quiet residential area of Sa Ràpita is waiting for its new owner. Upon entering the house, a...
Sa Ràpita
plot: 600 sqm
ATM04449
price: 850.000,00 €
bedrooms: 3
sold
The high-quality property is located in a quiet residential area of the coastal village of Sa Rapita and offers an inviting entrance, living lounge, dining room with modern, open kitchen, 5 bedrooms, 3 bathrooms ensuite, toilet, fireplace, air condit...
Sa Ràpita
plot: 807 sqm
constr. surface: 290 sqm
ABC0049
price: 900.000,00 €
bedrooms: 5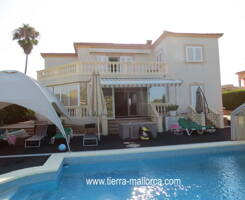 This property is situated in an absolutely quiet location in a cul-de-sac. The entrance is reached through a Mediterranean-style courtyard. The living space of 290 m2 is distributed on the ground floor in a huge living room, a fully furnished and equ...
Las Palmeras
plot: 1.100 sqm
AWA200700
price: 939.000,00 €
bedrooms: 5
In a still mostly untouched by tourism location thise beautiful new semi-detached house is being built on a 328 m2 plot and offer on a total of 127 m2 living space, 3 bedrooms and 3 bathrooms. A large and bright living/dining area with open, fully...
Cala Pi
plot: 328 sqm
constr. surface: 180 sqm
AGW04366
price: 949.000,00 €
bedrooms: 3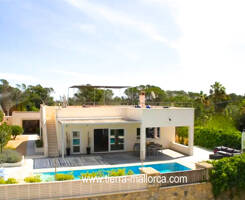 sold
The villa in the Mondrago nature park offers 3 bedrooms, 2 bathrooms, outdoor toilet, a 10 x 4 m pool with natural stone cladding, spacious terrace areas with BBQ zone, a 110 m2 panoramic terrace, garden, 15,000 l cistern, telephone/internet fiber co...
Santanyí
plot: 800 sqm
constr. surface: 155 sqm
ABC0934
price: 965.000,00 €
bedrooms: 3
This exceptional finca property is located very close to the town with good access. The property is divided into a main house with a guest flat with its own entrance and two further guest houses, each with its own terrace and barbecue area as well as...
Llucmajor
plot: 8.000 sqm
AWA200720
price: 995.000,00 €
bedrooms: 6
This well maintained chalet was built in 2001 with approx. 250 sqm of living space on a 1175 sqm plot in Sa Torre and offers a total of five bedrooms and three bathrooms. The fully equipped, separate kitchen has all amenities and an optional dining ...
Sa Torre
plot: 1.175 sqm
constr. surface: 367 sqm
ABI23047
price: 1.049.000,00 €
bedrooms: 5
Only a few minutes by car from the island's capital, Palma, and Son Sant Joan Airport, this elegant end-of-terrace house is located on a plot of around 460 sqm in a very well-kept, Mediterranean-style residential complex. This house offers a tot...
Son Verí Nou
plot: 460 sqm
constr. surface: 326 sqm
ABI23053
price: 1.090.000,00 €
bedrooms: 4
The exquisite Mallorcan villa in 2nd sea line, offers 5 bedrooms, 3 bathrooms, gas central heating, fireplace, a 46 m2 private nut pool, spacious terrace areas and balconies, carport and various parking spaces....
Cala Pi
plot: 693 sqm
constr. surface: 247 sqm
ABC0013
price: 1.300.000,00 €
bedrooms: 5