Luxurious properties with the maximum comfort in exclusive locations of Mallorca
On this page we offer luxury villas and houses in Majorca. Villas built in the finca style or designer houses and chalets by the sea. The luxury properties in Majorca are also a profitable investment. We look for a suitable location for you on the island. In addition we have penthouses in Mallorca for sale in the best locations on the island.
The high-quality property is located in a quiet residential area of the coastal village of Sa Rapita and offers an inviting entrance, living lounge, dining room with modern, open kitchen, 5 bedrooms, 3 bathrooms ensuite, toilet, fireplace, air condit...
Sa Ràpita
plot: 807 sqm
constr. surface: 290 sqm
ABC0049
price: 900.000,00 €
bedrooms: 5
In a still mostly untouched by tourism location thise beautiful new semi-detached house is being built on a 328 m2 plot and offer on a total of 127 m2 living space, 3 bedrooms and 3 bathrooms. A large and bright living/dining area with open, fully...
Cala Pi
plot: 328 sqm
constr. surface: 180 sqm
AGW04366
price: 949.000,00 €
bedrooms: 3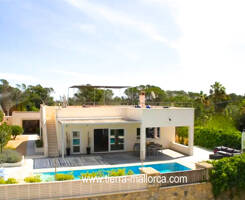 The villa in the Mondrago nature park offers 3 bedrooms, 2 bathrooms, outdoor toilet, a 10 x 4 m pool with natural stone cladding, spacious terrace areas with BBQ zone, a 110 m2 panoramic terrace, garden, 15,000 l cistern, telephone/internet fiber co...
Santanyí
plot: 800 sqm
constr. surface: 155 sqm
ABC0934
price: 965.000,00 €
bedrooms: 3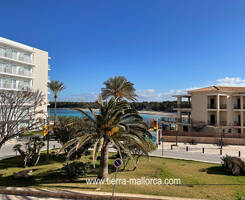 This property is located in a privileged situation, on the coast of Colónia de Sant Jordi, next to the beach of Marqués, only 10 metres away. The white sandy beach and crystal clear sea is ideal for those who like to relax and sunbathe. The luxury...
Colonia de Sant Jordi
constr. surface: 220 sqm
ATM01434
price: 1.100.000,00 €
bedrooms: 4
The exquisite Mallorcan villa in 2nd sea line, offers 5 bedrooms, 3 bathrooms, gas central heating, fireplace, a 46 m2 private nut pool, spacious terrace areas and balconies, carport and various parking spaces....
Cala Pi
plot: 693 sqm
constr. surface: 247 sqm
ABC0013
price: 1.300.000,00 €
bedrooms: 5
This light-filled villa is located about 250 m from the sea in an urbanization on the south coast of the island. The villa is first class equipped and has a wonderful sea view. The premises are mainly south facing, the 185 m² on one level are distri...
Tolleric
plot: 1.060 sqm
constr. surface: 360 sqm
AWA200534
price: 1.390.000,00 €
bedrooms: 3
Llucmajor
plot: 205.000 sqm
ADI5270
price: 1.400.000,00 €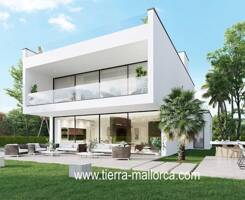 This new construction project of a villa in modern architecture with building permit can be started immediately. The buyers can still influence the furnishings, tiles, the outdoor areas and the garden design and bring in their own taste. The groun...
Sa Ràpita
plot: 870 sqm
constr. surface: 350 sqm
ADI4732
price: 1.495.000,00 €
bedrooms: 4
This architecturally attractive townhouse was completely renovated in 2020 and exudes its own charm in one of the best residential areas in Santanyi. It offers a spacious entrance, 4 bedrooms (optionally the garage could be converted into another bed...
Santanyí
constr. surface: 206 sqm
ABC0115
price: 1.650.000,00 €
bedrooms: 4