Your Estate Agent for properties in El Arenal
Property offers in El Arenal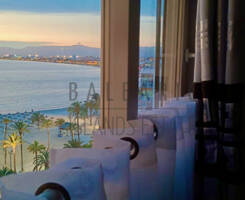 This perfectly renovated penthouse is located directly opposite the S'Arenal marina in a well-kept residential building from 1973. A total of 3 bedrooms and 2 bathrooms, one of which is en suite, are spread over 102 sqm of living space. The bea...
El Arenal
constr. surface: 102 sqm
ABI23055
price: 550.000,00 €
bedrooms: 3
Information and situation to El Arenal
S´Arenal – in Majorcan or Catalan from Majorca – and El Arenal – in Castillo – it is a part of one of  the most famous beaches on Majorca. S´Arenal belongs partly to Palma and partly to Llucmajor – the border line between both municipalities is "the torrent of Jueus"  – it is a stream which flows into the Mediterranean Sea when there is water in it -. When people hear the name S´Arenal automatically they are thinking in party time and sangria. But S´Arenal is much more than this – there is a 6km long beach along the coast until Ca´n Pastilla and every 300 m beach coast there is a Balnerario – all of them numbered from 1 to 15 – they are bars on the beach and they have a wide offer of drinks and meals, you can enjoy your long summer days without to leave the refreshing beach. You can go walking along the beach promenade, but you can also use bicycle or in-line skates.
On the promenade you will find everything you might need on the way. Shops, bars, restaurants. The sunsets on the beach are unforgettable. It is also a convenient location if you wish to undertake something, you are only 5 minutes away to the airport and 10 minutes away – by car – to Palma de Mallorca.
Population: approx. 5.000
Weekly market: Tuesday to Saturday
Distance to airport: 10 km
Excursions: Playa de Palma, marina, Palma de Mallorca, race course Llucmajor