Your Estate Agent for properties in Campos
Property offers in Campos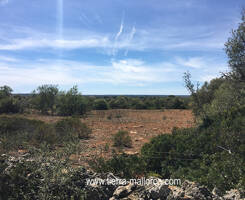 This very large plot is located in a quiet and elevated position with good access and is partially fenced with a Mallorcan stone wall. The last 400 meters lead over a dirt road into a dead end. On this property you can fulfill your dream of owning...
Campos
plot: 52.870 sqm
ATM05154
price: 340.000,00 €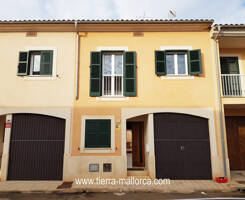 New
This beautiful townhouse built in 2006 is situated in a quiet street in the sought after village of Campos. The ground floor area is distributed in a spacious living room with fireplace, a fully fitted and equipped kitchen and a bathroom with shower....
Campos
constr. surface: 132 sqm
ATM02093
price: 475.000,00 €
bedrooms: 4
Charming rustic finca for renovation only 10 minutes by car from the villages of Campos and Santanyí. The property dates back to the 19th century and consists of a plot of land of approx. 30.000 m2. On the plot is built a house, stables and a windmil...
Campos
plot: 30.000 sqm
constr. surface: 433 sqm
ATM03649
price: 685.000,00 €
On a hill near Ses Salines a few years ago the construction of this country house was begun. The building shell offers a fantastic panorama view from every window and the pool terrace. They look not only at the sea, but up to the island of Cabrera a...
Campos
plot: 14.320 sqm
constr. surface: 330 sqm
ATM03220
price: 1.115.000,00 €
bedrooms: 6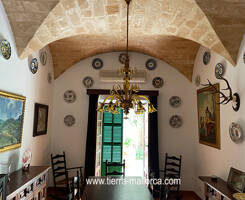 This impressive town house was built in the year 1800 on a plot of 476 m2 in the centre of Campos, a beautiful village in the south of the island. Its idyllic location gives this property proximity to all points of interest; restaurants, shops, super...
Campos
plot: 476 sqm
constr. surface: 635 sqm
ATM02500
price: 1.300.000,00 €
bedrooms: 6
In a quiet and idyllic location on the south coast of Majorca is the small coastal village of Ses Covetes, which lies between the towns of Sa Rapita and Colonia de Sant Jordi and therefore enjoys the beautiful natural beach Es Trenc on both sides. H...
Campos
plot: 8.300 sqm
constr. surface: 350 sqm
ASL03575
price: 1.545.000,00 €
bedrooms: 4
This beautiful Village is located on a large area of 87,000 m2 with very few neighbors and offers a lot of peace and tranquility throughout the day. Due to the idyllic location of the property, it is only 10 minutes from Campos, where we can find all...
Campos
plot: 87.000 sqm
constr. surface: 2.381 sqm
ATM03371
price: 1.900.000,00 €
bedrooms: 5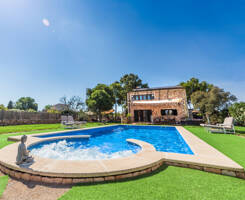 This idyllic finca with rental license is in close proximity to Ses Covetes and the dream beach Es Trenc as well as to Sa Rapita with excellent restaurants and its exclusive yacht harbor. The main house with approx. 220 square meters of living space ...
Campos
plot: 19.840 sqm
constr. surface: 367 sqm
ABI22010
price: 1.900.000,00 €
bedrooms: 3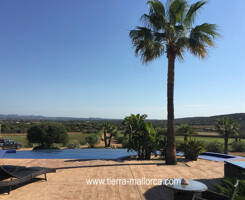 Reserved
This high quality country house with a fantastic view is located in a very quiet location. The connection between Campos and Ses Salines not far from the wonderful sandy beach is very good and central. The tasteful house with approx. 380 m2 is loc...
Campos
plot: 31.300 sqm
constr. surface: 380 sqm
ATM03363
price: 1.995.000,00 €
bedrooms: 3
Information and situation to Campos
The municipal county Campos lies on the south coast of Majorca, on a coast section, which extends from the location Sa Rapita in the West to Ses Arenes in the South-east behind the long drawn-out sandy beach of Es Trenc. The homonyms principal town of the municipality is approximately nine kilometers from the coast at the road from Palma to the resort areas on the east coast. The distance from Campos to Palma is about 35 kilometers. The community Campos has to offer a superlative – the municipality belongs to nature beach of Es Trenc. No beach in Europe exerts such fascination for its visitors such as the Es-Trenc. White sand – turquoise waters – not for nothing is it known as the Caribbean beach.
The beach is 5km long and 35m wide and is characterized by dune landscape. In the summer ca. 1000 visitors per day come to this beach – quite a lot. The medieval center of the locality Campos is also worth seeing – original and beautiful. Around Campos there are many wind generators – that are partly still in operating and they are used to water the fields. The surrounding area is characterized by its rich ground by agriculture and its former ambiance.
Population: approx. 10.000
Weekly market: Saturday
Distance to airport: 35 km
Excursions: prehistorical caves in Son Toni Amer, Church of Sant Julià – s. XVIII-, Church of Sant Blai – s. XVI-, avistamiento migratory birds sighting -flamingos – in Es Salobrar and the salt working in enterprise " Es Trenc", boottrip to Cabrera, Santanyi