Your Estate Agent for properties in Alcudia and Puerto Alcudia
Property offers in Alcudia & Puerto Alcudia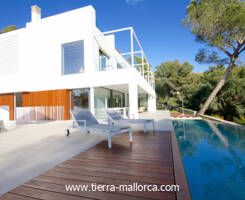 The house has four bedrooms including a master bedroom with dressing room, a very large living room with fireplace and a covered terrace all around. The kitchen is equipped with an island and there is a dining room inside and another outside. In th...
Alcúdia
plot: 1.050 sqm
constr. surface: 400 sqm
AMR1309
price: 2.750.000,00 €
bedrooms: 4
Information and situation to Alcudia and Port Alcudia
In the north of the island lays Alcúdia city with its picturesque historic centre and important ruins of the old roman town Pollentia. It is worth to see the historic centre inhabited since the Megalithic culture then used by Phoenicians and finally by Romans who settled the island in 123 B.C. The Alcudia´s name was given by Arabics (the arabic term Al-kudia means "the city up to the hill"). In order to protect the place against the pirates it was built a wall around the whole city by the Bastions.
This wall has been well maintained and it  gives to the town a medieval character. In the nice pedestrian area there are quiet cafes and bars. Tuesday and Sunday weekly markets are taking place, if you visit them you will find interesting and useful ítems. If you are looking for further activities you should visit Puerto de Alcudia – its marina- with a nice and big yacht port, a lot of restaurants and which is full of places to get fun ; there is also a long sandy beach connecting with Playa de Muro. July, the 25th is the Festivity of the holy patron from Alcú dia- Sant Jaume- which is also celebrated in whole Spain and it is known like "Santiago Apóstol Festivity".
Population: approx. 20 000
Weekly market: Tuesday and Sunday
Distance to airport: 70 km
Excursions: Cap Formentor, Playa de Muro, marina, Port Pollensa