Your Estate Agent for properties in Algaida
Property offers in Algaida
In the municipality of Algaida is this 17.800 m2 plot of land with a beautiful and wide view of the mountains, where its idyllic geographical location offers tranquility. Approved the project for its construction. During the construction of this s...
Algaida
plot: 17.800 sqm
ATM05184
price: 260.000,00 €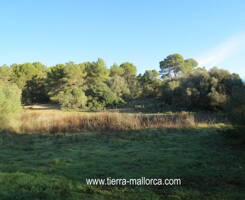 New
A spacious property of approx. 60,000 m2 that invites you to dream. With its many unique trees, bushes and its associated small woodland, this magnificent area offers you a dreamlike view of the Mediterranean countryside and the Randa mountain. You h...
Algaida
plot: 60.000 sqm
AWA200718
price: 350.000,00 €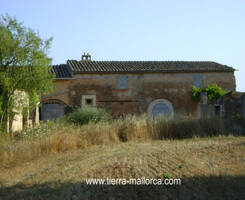 On an elongated plot of almost 2.2 hectares, there is a ruin of more than 350 m2 for expansion and refurbishment. The proximity to the capital and the very good accessibility of the next city Algaida with shops for daily needs underline this real est...
Algaida
plot: 21.800 sqm
ATM05137
price: 380.000,00 €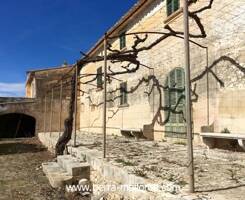 Historical Manor with extensive grounds, set in very peaceful surroundings in a privileged location in the district of Algaida, an area famous for its vineyards. This property, comprising different buildings, dates back to the 15th Century. The main ...
Algaida
plot: 546.000 sqm
constr. surface: 1.960 sqm
AMR1217
price: 4.200.000,00 €
Information and situation to Algaida
The municipality Algaida has got an area of 90 km2, the homonymous location counts with approximately 2,500 inhabitants. Algaida is situated in the southeastern part of the island. The city's name derives from the Arabic al-gaida translated it means as much as the forest. The inhabitants are called algaidi (men) and algaidina (women). The most popular place worth seeing is the mountain Puig de Randa on which there are three cloister sanctuaries. Nineteen kilometer from Palma on the main road, in the direction Manacor, close to Algaida there is the oldest glass blowing company of the island Gordiola.
In the factory of the family Gordiola you can watch the glassblowers doing their job and observe the production of precious pieces. It is also possible to buy them. Also the leather supermarket Alorda attracts the tourists and it is often visited. One of the most popular insiders´ tip regarding Majorcan cuisine is the restaurant Cal Dimoni. Translated it means The devil´s place and there is a colorful painted devil standing in front of the door showing the visitants they are in the right place.
Population: approx. 5 545
Weekly market: Friday
Distance to airport: 30 km
Excursions: Randa, Palma de Mallorca, Llucmajor