Your Estate Agent for properties in Manacor
Property offers in Manacor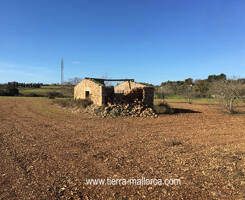 A country house with approx. 170 m2 of living space can be built on a flat plot of land with a beautiful view of the foothills of the Tramuntana mountains and partially fenced with a Mallorcan stone wall. A basic project is already in place and pr...
Manacor
plot: 14.720 sqm
constr. surface: 80 sqm
ATM05171
price: 140.000,00 €
In a fantastically beautiful area in the east of Mallorca lies this extensive building plot with distant sea views. The well-known villages of Felanitx and Manacor and the small harbour towns of Porto Colom and Porto Cristo are in the immediate vicin...
Manacor
plot: 86.369 sqm
ATM05050
price: 650.000,00 €
Information and situation to Manacor
Manacor, situated in the east of the island, is the third largest independent municipality of Majorca, the second largest town and at the same time agricultural center of the east of the island. The coat of arms contains a hand and a heart and this is what the name Man-a-Cor stands for "Hand on the heart". The history of this town goes through the Moorish and Roman settlement periods back to the prehistoric times. In Manacor you will find countless shops with art beads and other arts and crafts products, like for example pottery, it gives to this diligent and busy town an impressive image. 90% of all souvenirs that were manufactured on Majorca derive from Manacor.
Apart from wood products, the famous art beads attract the attention of the guests. Here you can go on a good food as well as saunter and go shopping. In many restaurants and cafés you can try the famous cookies from Manacor and enjoy the atmosphere of the town. The weekly market takes place in Manacor each Monday in the Placa Ramin Llull. Here there are souvenirs of all kind, from art to kitsch. The fruit and vegetables market is every week day in the morning in Placa Constitucio.
The municipality of Manacor includes the villages
Cala Anguila-Cala Mendia, Cala Murada, Cales de Mallorca, Son Mas, Son Talent, Porto Cristo, Sa Marineta, S'Estany d'en Mas, S'Illot – Cala Morlanda und Son Macià.
Population: approx. 40.000
Weekly market: Monday, saturday
Distance to airport: 60 km
Excursions: Harbor and beaches in the East, Cuevas del drach, pearls fabric