Country houses in Majorca for sale – feel good in your own home
Every year, millions of holiday makers travel to the Spanish island of Majorca to spend sunny days lying on the beach or to go sightseeing. For some tourists, they had such an unforgettable experience that they don't want to miss another single moment. So why not think about buying a finca or a country house? On this page you will find properties in Mallorca by the sea and all other island locations.
In the municipality of Algaida is this 17.800 m2 plot of land with a beautiful and wide view of the mountains, where its idyllic geographical location offers tranquility. Approved the project for its construction. During the construction of this s...
Algaida
plot: 17.800 sqm
ATM05184
price: 260.000,00 €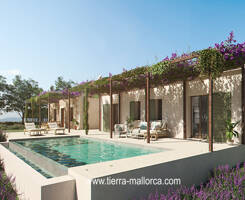 New
A plot near to Llubí located in a very peaceful area with easy access via a metalled road and situated only a few kilometres from the beaches of the bay of Alcudia. The plot currently has a small stone outbuilding of 53sq.m to be integrated in the bu...
Llubí
plot: 21.600 sqm
AMR1397
price: 340.000,00 €
bedrooms: 4
On a 2,000 m2 fenced plot, this newly renovated country house stands in the middle of a forest clearing. The living space of 125 m2 is divided into three bedrooms, 2 bathrooms, a living/dining room with direct access to the covered terrace and not to...
Montuïri
plot: 2.000 sqm
AWA200728
price: 390.000,00 €
bedrooms: 4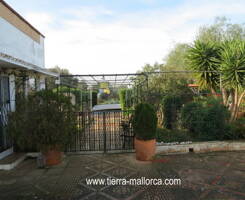 A beautiful small finca on ground level and easily accessible via a well-tarmacked road. The living space is divided into a living room with fireplace for the cooler seasons, a kitchen, a dining room, three bedrooms and a bathroom. With a little reno...
Llucmajor
plot: 13.000 sqm
AWA200719
price: 450.000,00 €
bedrooms: 3
New
A finca close to the village, where the access road ends in a dead end and is very easy to reach. Llucmajor with all its amenities, e.g. bars, restaurants as well as all imaginable shopping possibilities are reachable in a few minutes. In the cours...
Llucmajor
plot: 3.900 sqm
AWA200721
price: 549.000,00 €
bedrooms: 3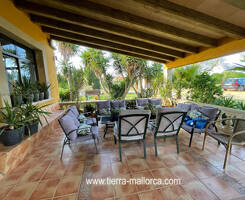 The finca is located in a quiet area in a cul-de-sac. The house captivates with its spacious rooms. The living space is divided into a huge kitchen, large living-dining room, six bedrooms and four bathrooms. The property is just too predestined for t...
Llucmajor
plot: 8.000 sqm
constr. surface: 670 sqm
AWA200577
price: 640.000,00 €
bedrooms: 6
On this plot you can realize your dream of a renovated Majorcan country house. The property is excellently located, easy to reach and yet rural, between Felanitx and Campos with a good access and connection to Palma....
Campos
plot: 30.000 sqm
constr. surface: 433 sqm
ATM03649
price: 650.000,00 €
In the pretty settlement of Ses Colònies, between the seaside village of Colonia and the up-and-coming town of Ses Salines, work has started on the construction of a single-family home and can be completed. The house already has two floors and a c...
Ses Salines
plot: 11.600 sqm
constr. surface: 567 sqm
ATM03247
price: 650.000,00 €
bedrooms: 5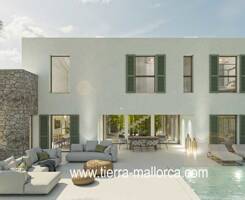 This large finca plot is being sold with a building permit (Proyecto Básico) for a two-storey house with terraces and a pool. The construction project has been submitted and once the building permit has been obtained, this finca plot will be transfer...
Llucmajor
plot: 83.000 sqm
ADI5271
price: 780.000,00 €
Das Leben in einer landestypischen Finca auf Mallorca
Je nachdem wo man sein Haus auf Mallorca kaufen oder mieten möchte variiert auch der Quadratmeterpreis. Vor allem die Lage der Traumfinca sowie deren Ausstattung ist für den Verkaufspreis ausschlaggebend. Wer auf Mallorca investieren oder verkaufen möchte, der muss natürlich einige Dinge beachten. Bevor es überhaupt mit der Besichtigung losgeht, sollte man sich Gedanken machen, wo die eigenen preislichen Vorstellungen liegen und an welchem Ort sich das Finca befinden soll, vielleicht in der Mitte oder lieber in Strand- und Meernähe. Es ist wichtig, diese Fragen im Vorfeld zu klären, denn wenn es zu einem Besichtigungstermin kommt, sollte man wissen, welche Vorstellungen man hat. Auch uns wird durch die Überlegungen im Vorfeld die Arbeit erleichtert, denn wir können gleich entsprechende Fincaangebote heraussuchen. Wenn dann ein Besichtigungstermin auf Mallorca vereinbart wurde, ist es hilfreich, eine Checkliste zu erstellen, die nach und nach abgehakt wird. Zuerst einmal sollte man sich den Gesamtzustand anschauen. Gibt es größere Schäden durch Wasser oder Schimmel? Wie ist der Zustand der elektrischen Leitungen? Wie ist die Qualität der Fenster?
Hilfe und Rat vor dem Fincakauf einholen
Man sollte abklären, wann die letzten Sanierungen der Häuser erfolgt sind, um eventuell entstehende Kosten bereits im Vorfeld in den Kaufpreis einkalkulieren zu können. Auch wenn keine augenscheinlichen Mängel an der Fincaimmobilie vorhanden sind, ist es wichtig, sich Einsicht in die Escritura zu verschaffen, die notarielle Urkunde. Auch einen Grundbuchauszug beim Eigentumsregister sollte man sich besorgen und diesen mit der notariellen Urkunde vergleichen. Bei Unstimmigkeiten werden wir Ihnen mit Rat und Tat zur Seite stehen bei den beiden Formularen. Wer Zeit und Gelegenheit hat, sollte eine technische und juristische Prüfung vornehmen. Ein Gutachter, der die Überprüfung vornimmt, erstellt ein Gutachten, was man zu seinen Unterlagen legen kann, um es später bei der Bank vorzulegen. Die Banken in Spanien sind seit einem Jahr dazu verpflichtet, solche Gutachten zu akzeptieren.
Auch für Besitzer gibt es beim Verkaufen einiges zu beachten. Wir, von Tierra Malllorca werden Ihnen helfen alle Papiere und Unterlagen zu beschaffen, sodaß einem Fincakauf oder einer Miete auf Mallorca nichts mehr im Wege steht.
Wann und Wo sollten Sie sich zum Kaufen Ihres Traumobjektes entscheiden ?
Dauerhaft den Wohnsitz nach Mallorca verlegen? Den Urlaub in den eigenen vier Wänden im Süden verbringen oder den Lebensabend auf der Insel genießen? Es gibt viele Gründe, sich für Eigentum auf der Baleareninsel zu entscheiden. Eine eigene Fincaimmobilie auf Mallorca ist eine wirtschaftlich attraktive Investition, die Nachfrage nach den eigenen vier Wänden im schönen Süden wächst stetig. Eine hohe Lebensqualität, mediterranes Flair und ein vielfältiges kulturelles Angebot machen die Insel zu einem beliebten Domizil. Damit Sie entscheiden können, wo Sie wohnen möchten ist es immer ratsam sich die Regionen und deren Umgebung gründlich anzusehen. Dem einen ist lieber eine ruhige Oase im Landesinneren und der andere hat lieber die Nähe zum Meer oder möchte einen Meerblick genießen. Wir führen ein inselweites Fincaangebot und helfen Ihnen bei Dokumenten und Behördengängen.