Country houses in Majorca for sale – feel good in your own home
Every year, millions of holiday makers travel to the Spanish island of Majorca to spend sunny days lying on the beach or to go sightseeing. For some tourists, they had such an unforgettable experience that they don't want to miss another single moment. So why not think about buying a finca or a country house? On this page you will find properties in Mallorca by the sea and all other island locations.
In the municipality of Algaida is this 17.800 m2 plot of land with a beautiful and wide view of the mountains, where its idyllic geographical location offers tranquility. Approved the project for its construction. During the construction of this s...
Algaida
plot: 17.800 sqm
ATM05184
price: 260.000,00 €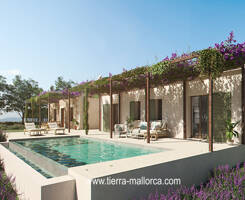 A plot near to Llubí located in a very peaceful area with easy access via a metalled road and situated only a few kilometres from the beaches of the bay of Alcudia. The plot currently has a small stone outbuilding of 53sq.m to be integrated in the bu...
Llubí
plot: 21.600 sqm
AMR1397
price: 340.000,00 €
bedrooms: 4
Reserved
On a 2,000 m2 fenced plot, this newly renovated country house stands in the middle of a forest clearing. The living space of 125 m2 is divided into three bedrooms, 2 bathrooms, a living/dining room with direct access to the covered terrace and not to...
Montuïri
plot: 2.000 sqm
AWA200728
price: 350.000,00 €
bedrooms: 4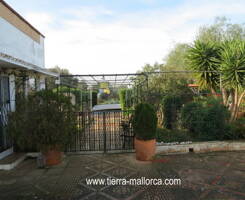 A beautiful small finca on ground level and easily accessible via a well-tarmacked road. The living space is divided into a living room with fireplace for the cooler seasons, a kitchen, a dining room, three bedrooms and a bathroom. With a little reno...
Llucmajor
plot: 13.000 sqm
AWA200719
price: 450.000,00 €
bedrooms: 3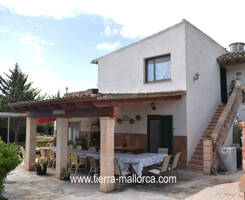 New
This marvellous finca is located at the foot of the famous Randaberg with its monasteries. It is in an absolutely quiet location at the end of a small dirt track. The living space of 140 m2 is distributed over 4 bedrooms, 2 bathrooms, 2 living rooms ...
Llucmajor
plot: 3.600 sqm
AWA200752
price: 495.000,00 €
bedrooms: 4
sold
A finca close to the village, where the access road ends in a dead end and is very easy to reach. Llucmajor with all its amenities, e.g. bars, restaurants as well as all imaginable shopping possibilities are reachable in a few minutes. In the cours...
Llucmajor
plot: 3.900 sqm
AWA200721
price: 549.000,00 €
bedrooms: 3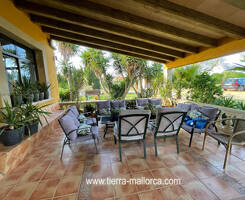 The finca is located in a quiet area in a cul-de-sac. The house captivates with its spacious rooms. The living space is divided into a huge kitchen, large living-dining room, six bedrooms and four bathrooms. The property is just too predestined for t...
Llucmajor
plot: 8.000 sqm
constr. surface: 670 sqm
AWA200577
price: 640.000,00 €
bedrooms: 6
In the pretty settlement of Ses Colònies, between the seaside village of Colonia and the up-and-coming town of Ses Salines, work has started on the construction of a single-family home and can be completed. The house already has two floors and a c...
Ses Salines
plot: 11.600 sqm
constr. surface: 567 sqm
ATM03247
price: 650.000,00 €
bedrooms: 5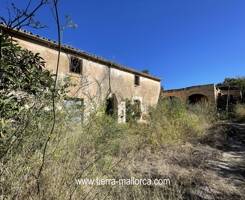 Price reduction
Charming rustic finca for renovation only 10 minutes by car from the villages of Campos and Santanyí. The property dates back to the 19th century and consists of a plot of land of approx. 30.000 m2. On the plot is built a house, stables and a windmil...
Campos
plot: 30.000 sqm
constr. surface: 433 sqm
ATM03649
price: 685.000,00 €