Building plots for sale in Mallorca – Plan and design your own property
On this page we offer building plots if you want to design, plan and build your own property in Mallorca. We are also happy to help you with the notaries and solicitors. When buying or selling land, our wealth of expertise makes us the best partner when searching for the best suitable location for you.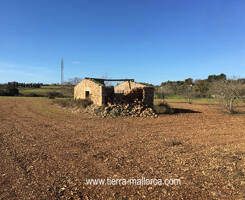 A country house with approx. 170 m2 of living space can be built on a flat plot of land with a beautiful view of the foothills of the Tramuntana mountains and partially fenced with a Mallorcan stone wall. A basic project is already in place and pr...
Manacor
plot: 14.720 sqm
constr. surface: 80 sqm
ATM05171
price: 140.000,00 €
A beautiful plot for your family home in Mallorca with a very good access via a paved path. The plot itself is very buildable due to its flat surface and the soil is very fertile. The great view of the complicated mountains, the property also on, ...
Porreres
plot: 17.000 sqm
AWA200517
price: 149.000,00 €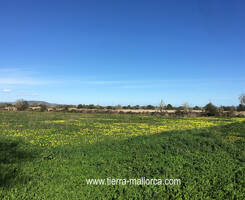 This flat plot with a pretty panorama of the surrounding nature and foothills is in a quiet location above a year-round place in the southeast of Mallorca. A Mallorcan stone wall surrounds this building land and the direct access leads via a dirt ...
Felanitx
plot: 26.600 sqm
ATM05165
price: 178.000,00 €
A beautifully situated plot of land with old Mediterranean trees and plants below the Galdentberg is for sale. The piece of land is enclosed with a natural stone wall and offers a magnificent view. On the property there is a house of approx. 80 m2 in...
Llucmajor
plot: 23.711 sqm
constr. surface: 80 sqm
AWA200726
price: 219.000,00 €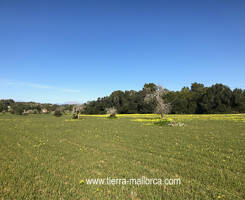 This building land with a panorama of the village Bonany in the middle of the island is in a quiet and natural environment. The property is elongated and offers trees, good access and a flat area for a family house with pool. A basic project is read...
Petra
plot: 37.810 sqm
ATM05174
price: 225.000,00 €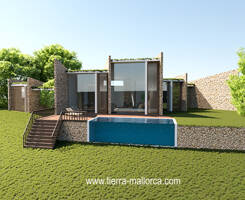 A new-fashioned basic project for a new bungalow-style building has already been registered for a building license. The house fits wonderfully into the landscape and is built with natural insulation. The detached house will blend with the surround...
Petra
plot: 28.600 sqm
ATM05175
price: 245.000,00 €
In the municipality of Algaida is this 17.800 m2 plot of land with a beautiful and wide view of the mountains, where its idyllic geographical location offers tranquility. Approved the project for its construction. During the construction of this s...
Algaida
plot: 17.800 sqm
ATM05184
price: 260.000,00 €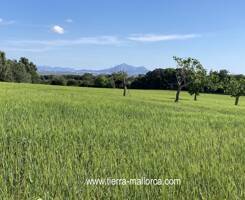 Plot of land in the country measuring 22,000 sq.m divided between two levels and with two entrances, located in the district of Muro. On the higher part of the plot it is permitted to construct a house of 300 sq.m plus a swimming pool, from which it ...
Muro
plot: 22.000 sqm
AMR1373
price: 285.000,00 €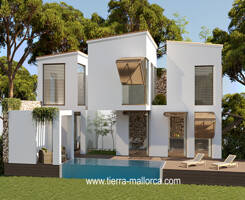 The property extends over approximately 34500 m2 of land and is located between the cities of Sineu, Sant Joan and Petra in the center of Mallorca. Part of the property (approx.6,000 m2) consists of dense pine forest. A basic project has already b...
Petra
plot: 34.490 sqm
ATM05173
price: 295.000,00 €