Commercial properties for sale in Mallorca – Combine work and leisure time
We offer properties that can help with your professional future in Majorca. Whether you want to buy a property for commercial use, a small business or a country hotel. We are happy to give you as a company, our expert advice. We can help you find a suitable commercial property among the many properties in Mallorca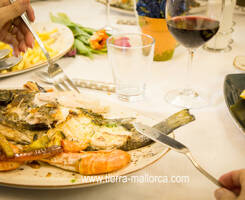 This upscale restaurant is looking for a new operator! Would you like to make a living in Mallorca or are you looking for a new challenge? This gastronomy has been the preferred and prestigious addresses of southern Mallorca for years. A large num...
constr. surface: 195 sqm
ATM07020
price: 2.000,00 €
This vacant shop is located not far from the shopping mile but also within walking distance of the coast. The shop offers 50 m2 of retail space as well as a toilet. Parking spaces are available on the street....
Colonia de Sant Jordi
ATM07021
price: 500,00 €
In a very lively holiday region of Majorca, this night Club - Cocktail Bar - Disco is located and has been a fixture of this entertainment district in the south/west of the island for many years. The fully equipped rooms with partial sea views off...
constr. surface: 282 sqm
AGW06355
price: 600.000,00 €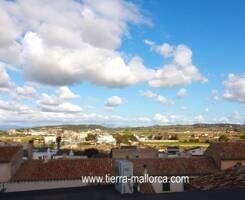 The 348 m2 townhouse houses a licensed restaurant/bar on the ground floor, popular with locals, regulars and holiday makers alike. The 50 seats indoors are joined by a further 44 seats on the outdoor terrace and offer guests food and drinks in a priv...
Porreres
constr. surface: 348 sqm
ABC0223
price: 650.000,00 €
bedrooms: 3
For almost 30 years, this renowned restaurant in the best harbor location has been an integral part of the regional gastronomy scene and hosts a large number of regular customers from all over Europe every year. The lovingly designed guest room with ...
constr. surface: 259 sqm
AGW06341
price: 780.000,00 €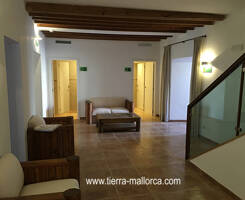 With tasteful decoration and modern technology, this charming manor house built in 1900 has been transformed into a cozy bed and breakfast hotel. This Petit Hotel is fully equipped and the new owner can take it immediately and open. On three floors,...
plot: 300 sqm
constr. surface: 400 sqm
ATM06328
price: 1.294.000,00 €
bedrooms: 8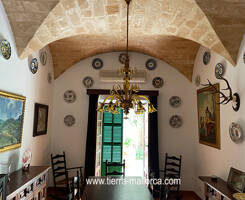 This impressive town house was built in the year 1800 on a plot of 476 m2 in the centre of Campos, a beautiful village in the south of the island. Its idyllic location gives this property proximity to all points of interest; restaurants, shops, super...
Campos
plot: 476 sqm
constr. surface: 635 sqm
ATM02500
price: 1.300.000,00 €
bedrooms: 6
This large manor house over four floors from 1950 is situated in an elevated position in the charming village of Montuïri and therefore offers a unique view from the upper floors over the village and the surrounding landscape up to the Sierra de Tram...
Montuïri
constr. surface: 520 sqm
ATM02087
price: 1.975.000,00 €
bedrooms: 6
This well-established, year-round hotel is located in the south of Majorca, close to Palma and has been partially renovated over the years. A total of 34 doublerooms, all equipped with TV, air conditioning and safe are distributed over four floors wi...
plot: 350 sqm
constr. surface: 1.600 sqm
AGW06349
price: 2.125.000,00 €
bedrooms: 34