Your Estate Agent for properties in Felanitx
Property offers in Felanitx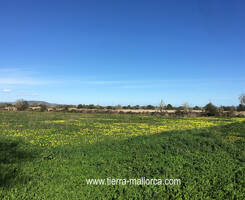 This flat plot with a pretty panorama of the surrounding nature and foothills is in a quiet location above a year-round place in the southeast of Mallorca. A Mallorcan stone wall surrounds this building land and the direct access leads via a dirt ...
Felanitx
plot: 26.600 sqm
ATM05165
price: 178.000,00 €
Great rustic plot of 57 hectares with a farmhouse located between Vilafranca de Bonany and Felanitx. Currently exploited for livestock and cultivation of almond and fig. The traditional farmhouse has about 250 m2, which together with the various anim...
Felanitx
plot: 570.000 sqm
constr. surface: 1.200 sqm
AMR1083
price: 2.300.000,00 €
bedrooms: 10
Information and situation to Felanitx
The small town Felanitx is spread over four small hills on the edge of Serra de Llevant. The locality was founded by the Arabs. In the center of the town, like in all other localities, there is a baroque church Sant Miguel. Every Sunday morning a market takes place on the impressive outside staircase and around the church. Behind the church there are market halls. The market square Placa Espana with its bars and cafes under palms invites you to enjoy the local white wine. If you look for beautiful ceramic works or antiques – surely you will find it in Felanitx. The shops are opened also on Sunday morning when the market takes place. More or less 8km in southeast lies the Castell de Santueri. To the Serra Llevant leads a very twisty and partially steep bypass road. Here are located the remains of one of the three big fortification systems. On a clear weather the view is so good that you can see the two remaining Balearic Islands. Only 4km east from Felanitx in the year 1348 a pilgrimage church Santuari de Sant Salvador was built on the mountain Sant Salvador (506m). The multi-level building you can reach through well-developed street. The 7m high Christ statue, donated by one of the citizens, decorates the 37m high tower situated beside the church. On a clear weather you can see the whole island from here.
The municipality of Felanitx includes the villages
Ca's Concos des Cavaller, Cala Ferrera, Cala Serena, Es Carritxó, Portocolom, S'Horta, Son Mesquida, Son Negre, Son Proenç und Son Valls
Population: approx. 18.000
Weekly market: Sunday
Distance to airport: 50 km
Excursions: San Salvador, Golf Vall d'Or, beaches and marinas in the East, Manacor