Your Estate Agent for properties in Llubi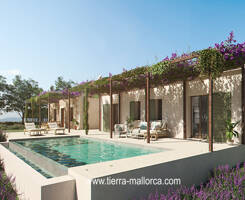 New
A plot near to Llubí located in a very peaceful area with easy access via a metalled road and situated only a few kilometres from the beaches of the bay of Alcudia. The plot currently has a small stone outbuilding of 53sq.m to be integrated in the bu...
Llubí
plot: 21.600 sqm
AMR1397
price: 340.000,00 €
bedrooms: 4
Information and situation to Llubi
Llubi is an idyllic village surrounded by fields and orange groves. The inhabitants of Llubi have mainly specialized in agricultural products; for instance from here come Majorcan capers. These and other domestic products you can always buy on Tuesday on the weekly market. The market especially dedicated to honey takes place on 23 of November; a bigger agricultural fair is on the 25 of November. The village patron Sant Feliu is celebrated on 1st of August. Worth seeing is the hermitage Ermita de San Crist del Romei. The small locality Llubí is located centrally but offside the mass tourism and the main traffic arteries. Built on two hills, on one of them there is a town hall and a church and on the other one there are the apartment buildings. Formerly they were two separate parts of the village. Here you can find calm and tranquillity.
The inhabitants seat in the summer evenings in front of the houses and enjoy the last sunbeams – very idyllic. The locality has not been changed by the tourism – the typical country life maintains as formerly. The advantage of Llubi is that here you can still sense the Majorcan charm. For the lovers of bicycles the place is like El Dorado – around Llubi you can see many idyllic landscapes and you can pass over the small country roads going by bike. In the locality there are a few bars, restaurants and shops where you can supply yourself with food.
Population: approx. 2.300
Weekly market: Tuesday
Airport distance: 29km
Excursions: Inca, Hermitage Ermita del Sant Crist del Remei, Port Alcudia