Town houses and village houses for sale in Mallorca
We also offer you traditional and urban properties in Mallorca. Exclusive houses in the old town with beautiful inner courtyards that are within walking distance to the town centre. High quality furnished terraced houses in pleasant locations. Send us an inquiry with your wishes and price range.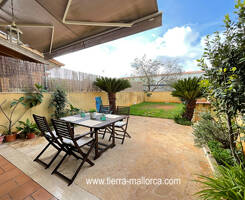 A cosy two storey townhouse from the year 2005 is for sale in a very quiet area of the village of Ses Salines. The constructed area of approx. 150 m2 is distributed on the ground floor in a comfortable living-dining room with direct access to the ...
Ses Salines
constr. surface: 125 sqm
ATM02090
price: 380.000,00 €
bedrooms: 3
This Mallorcan town house is located in a charming location in Ses Salines and has separate access to two apartments on both floors. It has 7 bedrooms, 3 bathrooms, oil central heating, air conditioning, fireplace, garage and a large sun terrace / ga...
Ses Salines
constr. surface: 290 sqm
ABC0086
price: 460.000,00 €
bedrooms: 7
The historic Casa Señorial offers an enormous potential and is ideally suited as a small hotel, boutique hotel or restaurant. The heart of the historic building from 1880 is the grandiose patio with garden. The spacious salons provide an ambience ...
Porreres
plot: 1.102 sqm
constr. surface: 542 sqm
ABC0335
price: 650.000,00 €
bedrooms: 18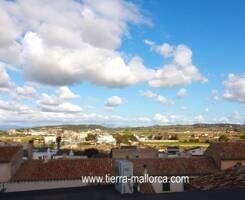 The 348 m2 townhouse houses a licensed restaurant/bar on the ground floor, popular with locals, regulars and holiday makers alike. The 50 seats indoors are joined by a further 44 seats on the outdoor terrace and offer guests food and drinks in a priv...
Porreres
constr. surface: 348 sqm
ABC0223
price: 650.000,00 €
bedrooms: 3
On a plot of 1.800m² lies this spectacular town house with 500 m2 of living surface. The property boasts a big, well matured and grown garden between citrus trees as well as other plants and trees, it offers plenty of space to also enjoy the pool and...
Porreres
plot: 1.800 sqm
constr. surface: 589 sqm
PPU02273
price: 670.000,00 €
bedrooms: 5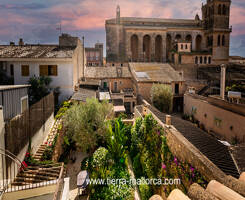 This townhouse from 1924, close to the centre, was rehabilitated in 2019 with great attention to detail and using the best building materials. The living area is spread over three floors. On the ground floor we find the spacious entrance area with...
Campos
plot: 230 sqm
ATM02088
price: 890.000,00 €
bedrooms: 4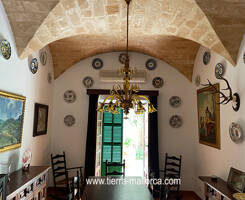 This impressive town house was built in the year 1800 on a plot of 476 m2 in the centre of Campos, a beautiful village in the south of the island. Its idyllic location gives this property proximity to all points of interest; restaurants, shops, super...
Campos
plot: 476 sqm
constr. surface: 635 sqm
ATM02500
price: 1.300.000,00 €
bedrooms: 6
This architecturally attractive townhouse was completely renovated in 2020 and exudes its own charm in one of the best residential areas in Santanyi. It offers a spacious entrance, 4 bedrooms (optionally the garage could be converted into another bed...
Santanyí
constr. surface: 206 sqm
ABC0115
price: 1.650.000,00 €
bedrooms: 4
This large manor house over four floors from 1950 is situated in an elevated position in the charming village of Montuïri and therefore offers a unique view from the upper floors over the village and the surrounding landscape up to the Sierra de Tram...
Montuïri
constr. surface: 520 sqm
ATM02087
price: 1.975.000,00 €
bedrooms: 6