Your Estate Agent for properties in Muro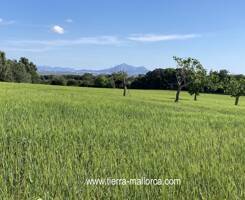 Plot of land in the country measuring 22,000 sq.m divided between two levels and with two entrances, located in the district of Muro. On the higher part of the plot it is permitted to construct a house of 300 sq.m plus a swimming pool, from which it ...
Muro
plot: 22.000 sqm
AMR1373
price: 285.000,00 €
Information and situation to Muro
The small locality Muro is situated on the southeast of Sa Pobla. The first settlement was already formed by Romans. The gothic church Sant Joan Bautista  was built in the 16th century, it looks from the first time Arabic style and it has a colorful rosette window on the western front. On Sunday morning  a small weekly market takes place on the main square. The beach Playa de Muro is just a couple of minutes away from center and is specially recommended for families with children – they are feeling  good on this beach for its calmed and sure ambience in the same time the children are playing in the sand –; due its clear waters and well maintained dune system this beach slopes gently into the sea and it is popular among locals and tourists as well.
Here you can spend an amazing  sunbathing  day and then enjoy a nice walk through the small locality  – because there are a lot of restaurants, bars and discos-. Our suggestions about your visit to Muro : s´ "Abufera" Natural Park – a nice walk through this natural and protected area – and also a visit to the vynegard "Butxet" in Muro village – one of the most important in the Island wich has become a lot of wine quality prices -. Otherwise all cyclists will have a nice point to start bicycle routes close to the sea or into the center of the island.
Population: approx. 7000
Weekly market: Sunday
Airport distance: 60 km
Excursions: Beaches in north-east Port Alcudia and Port Pollensa, Cap Formentor, leather town Inca