Apartments for sale in Mallorca – For your well-being
Find your individual apartment here in Majorca. We can offer you a selected range of charming apartments and properties in Mallorca in all of the regions. Please contact us so that we may use our expertise to help you. We can find the right apartment at the right price for you. Get in touch with us so that we can give you all of our expertise and knowledge. We will find you the right apartment that is the right price for you.
A great ground floor flat located in an absolutely quiet side street. The living space is divided into living/dining room with open kitchen, bedroom and bathroom. The sea is only 200 metres away, directly adjacent, only separated by a fence, is a qui...
Can Pastilla
AWA200709
price: 199.000,00 €
bedrooms: 1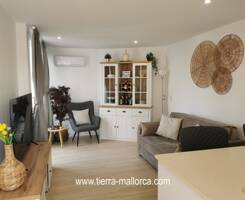 New
Here we offer a charming flat on the second floor with a living area of 37 m2 plus 9 m2 of terrace for sale. The apartment consists of a cozy living room with an open plan kitchen, a double bedroom with built-in wardrobe and a bathroom with space for...
Colonia de Sant Jordi
constr. surface: 46 sqm
ABW01472
price: 200.000,00 €
bedrooms: 1
Apartment in the center of Colonia Sant Jordi about 400m from the port and beach. This apartment on the second floor has a living space of 53m2, distributed in a living room with dining room and kitchen, 2 bedrooms and 1 bathroom. All rooms equip...
Colonia de Sant Jordi
ABW01470
price: 250.000,00 €
bedrooms: 2
New
Here you can acquire a beautiful flat at a reasonable price. The charming flat is located on the first floor in a well-maintained communal complex. The living space of 73 m2 is divided into two bedrooms, a bathroom, a fully equipped kitchen and a co...
Las Palmeras
AWA200689
price: 255.000,00 €
bedrooms: 2
Centrally located, well-maintained first floor flat for sale in the beautiful coastal town of Colonia St. Jordi. This cosy flat on 73 m2 living space and additional 14 m2 balcony offers you three bedrooms, two bathrooms, living/dining room with ac...
Colonia de Sant Jordi
ATM01468
price: 297.000,00 €
bedrooms: 3
First floor apartment with large terrace near the port for sale. In a central location, this 90 m2 apartment offers three double rooms, two bathrooms, living / dining room with access to the terrace and a separate kitchen. The house is in good condit...
Colonia de Sant Jordi
constr. surface: 117 sqm
ATM01398
price: 367.500,00 €
bedrooms: 3
sold
Space, light and comfort define this great apartment in a class of its own. If you love the Mallorcan village of Porreres and wish all the comforts, this apartment is an excellent choice for you. It is located on the 1st floor of a building with o...
Porreres
constr. surface: 190 sqm
ABC0111
price: 375.000,00 €
bedrooms: 3
In autumn 2023, construction will begin on a modern three-storey building with a lift connecting the floors. On each floor there will be one flat. The basement will contain storage rooms and parking spaces. This charming ground floor flat will hav...
Colonia de Sant Jordi
constr. surface: 100 sqm
ATM01465
price: 450.000,00 €
bedrooms: 3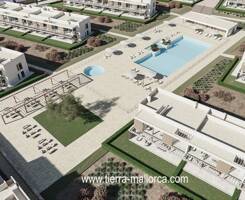 An elegant new residential complex of 69 flats in a total of nine modern buildings is currently under construction. The complex is located only a few minutes away from the beach Es Trenc and has a gymnasium, a large salt water swimming pool and priva...
Sa Ràpita
constr. surface: 94 sqm
ATM01447
price: 490.000,00 €
bedrooms: 2