Your Estate Agent for properties in Ses Salines
Property offers in Ses Salines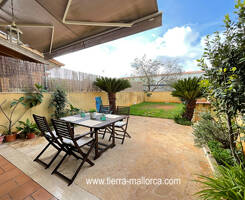 A cosy two storey townhouse from the year 2005 is for sale in a very quiet area of the village of Ses Salines. The constructed area of approx. 150 m2 is distributed on the ground floor in a comfortable living-dining room with direct access to the ...
Ses Salines
constr. surface: 125 sqm
ATM02090
price: 358.000,00 €
bedrooms: 3
New
This Mallorcan town house is located in a charming location in Ses Salines and has separate access to two apartments on both floors. It has 7 bedrooms, 3 bathrooms, oil central heating, air conditioning, fireplace, garage and a large sun terrace / ga...
Ses Salines
constr. surface: 290 sqm
ABC0086
price: 460.000,00 €
bedrooms: 7
The spacious plot offers a wonderful view and is situated in a quiet location on a hill between the coastal village of Colonia Sant Jordi and Ses Salines. Thanks to well-developed secondary roads, it is easily accessible. Infrastructure, such as publ...
Ses Salines
plot: 21.800 sqm
ADI7097
price: 495.000,00 €
In the pretty settlement of Ses Colònies, between the seaside village of Colonia and the up-and-coming town of Ses Salines, work has started on the construction of a single-family home and can be completed. The house already has two floors and a c...
Ses Salines
plot: 11.600 sqm
constr. surface: 567 sqm
ATM03247
price: 650.000,00 €
bedrooms: 5
The finca is located near the village of Ses Salines and the natural beach of Es Trenc. It offers 3 bedrooms, 2 bathrooms, oil central heating, fireplace, air conditioning, garage, a charming quarry and a 32 m2 pool. If you are looking for a typical ...
Ses Salines
plot: 18.000 sqm
constr. surface: 194 sqm
ABC0078
price: 1.000.000,00 €
bedrooms: 3
Information and Situation to Ses Salines
Ses Salines is located in the south of Majorca; the name is derived from the salt fields that are still cultivated in its coastal zone: Colonia de Sant Jordi – once there you can watch the white salt mountains and flown fields from the big Avenue -. The locality itself is well structured with many shops and good bars and restaurants. In addition, its nice touristic zone, Colonia de Sant Jordi, is just a few minutes away, here you can take a nice bath in the clear water beaches, go for a walk in its wood promenade or to enjoy a lot of activities that only can be offered by a touristic center.
Every Thursday takes place in Ses Salines the weekly market and Sant Bartomeu is the most important festivity, celebrated on August the 24th. In Ses Salines there is also one of the biggest botanic gardens in the world called "Botanicactus" that is definitely worth seeing. Here you can find gigantic cactuses and other Mediterranean plants. The sightseeing places of Ses Salines are a visit to the National Park of Cabrera Island (daily boats from its port in Colonia de Sant Jordi) a visit to Cap Salines with its light house and beautiful rocky coast. Here you can organize long hikes in the bays where there are no people to see. Here you will feel the really Majorcan flair.
Population: approx. 5000
Weekly market: Thursday
Airport distance: 50 km
Excursions: Colonia Sant Jordi, Es Trenc, beaches in the south, Campos, Nature park Mondrago